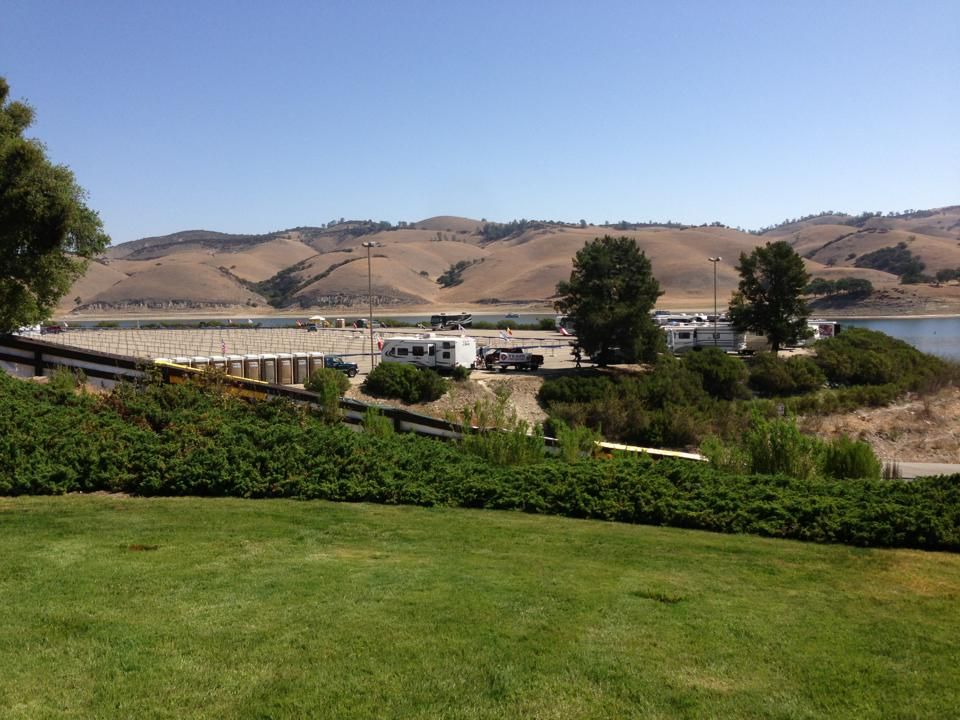 Wildflower Race Report
First off I must say that I love this event. It has everything that is cool about triathlon. The atmosphere is amazing, lots of first timers and tons of crowd support. My amazing wife allowed me to go down as a boys trip so I drove the trailer down on Wednesday with plenty of time to get a good spot and be ready for the race. On Thursday Morning I woke up and enjoyed some coffee at the trailer by Transition. I then noticed that returning champion Jesse Thomas and his beautiful wife Lauren Fleshman walk by. I chatted with them for a while. They are both really genuine and nice people. Thursday was hot and my plan was to stay off my feet all day. So, with power in the trailer I watched movies with the AC on. It was great. Godfather, Rudy, and Wedding Crashers. Love it!
Friday my buddy Eric showed up and we went for a little ride and swim. Got our gear together and met up with some friends that we haven't seen in awhile. Got a good prep in and was ready for my race on Saturday. I was a little worried about this race. Wildflower is a tough course and my training this pre-season has been less than consistent. However, I was looking forward to a good ass-kicking to motivate me for Tahoe. I slept great on Friday night and woke up ready to go. Setup transition and put the wetsuit on and got in the corral. The swim was really uneventful. I felt good but not great. My mind tends to wander and I slow down but I was focused and came out of the water and was a little disappointed with 34 minutes.
I had a good transition and quickly got out on the bike. Wildflower bike course is pretty hilly and on the second mile is a pretty steep hill. I was spinning up it with the goal of keeping my heart rate low this early in the day when I saw a very good looking woman topless holding a sign that said "Hey! My eyes are up here!" Needless to say my HR goal was not achieved. I immediately chalked up my race as a success regardless of the rest of the day.  I felt like I did a good job following my plan of holding back until mile 40. My nutrition was good and I was feeling fresh. On mile 40 I kicked up the wattage and attacked the hills. I beat my previous best on this bike course by ten minutes. It was still slower then my goal of three hours however, I felt good going into T2 and this run course can suck the life out of you. Bike split of 3:08
My transition was quick and I was out on the course. I felt a little warm but overall I was feeling good. The first couple of miles went by and even though my Garmin was not working I could tell I was in the 8 to 8:30 mile pace and feeling good. The first hill slowed me down a little but I still felt confident I would finish the run in 2 hours or less. Then I hit the trail and the wheels fell off. I started to cramp up a little in my quads and my mental game broke down. Almost all of the competitors around me slowed way down on the trail where there is little to no crowd support. I should have taken this opportunity to attack but instead I joined them and it cost me a lot of time. I walked almost all of the hills on the trail and at mile seven when we got back into the campground I realized it was only mental that was making me walk. I could run on. So, I picked it up and finished the rest of the race only walking on the "Pit." I finished with a disappointing 6:09.
You can tell on my finishers picture that I was not very happy with my performance. However, the weekend was a blast. I will be back to show that course what I can do! We spent the rest of the day relaxing and hanging out with new and old friends. It was great. I met a lot of firefighters from Santa Barbara and San Diego that are interested in joining the team.